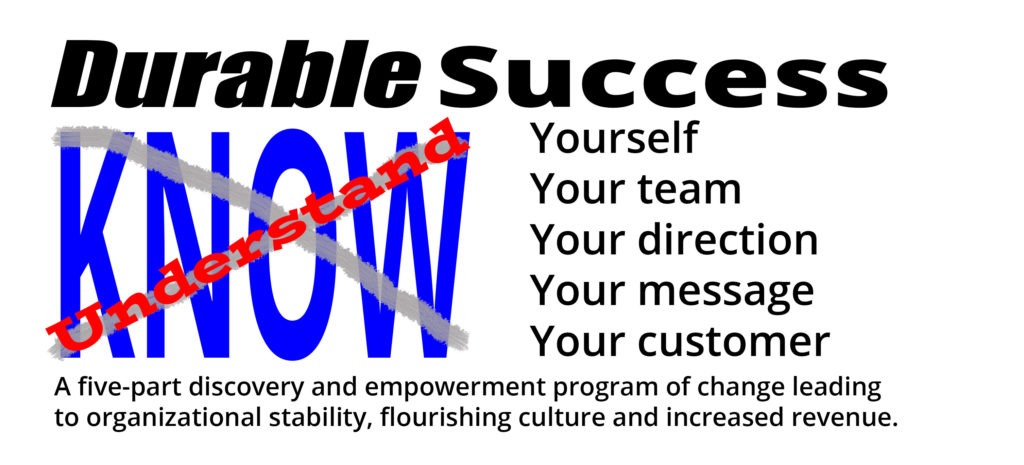 You want success that lasts, but changes need to show results fast.  From the author of LIFElines:  Empowering All Aspects of Life and the founder of Empowered Creativity Institute comes Durable Success.  Effect change that empowers your team and transforms your organizational culture to one of growing and flourishing while increasing revenue; effect changes that are durable to the ebbs and flows of business cycles and the economy. Durable means "able to withstand wear, pressure, or damage; hard-wearing."  Become durable!  "Knowing" is great, "understanding" is better, and turning that all into ACTION creates Durable Success!
The difference between knowing and understanding comes from the simple question of a two-year old:  "Why?"  "Why before how" has been my mantra for decades; it creates understanding, power, efficiency and effectiveness.  Don't just "know"… understand yourself, your team, direction, message and customer to enable durable success by taking action.  This program will take you there.
There are five elements of my program, and they all focus on the human perspectives of business.  Together they create a unified business culture that empowers, celebrates and utilizes everyone's abilities as the business increases revenue.  Durable Success.
Do you have a business with:
a story to tell,
more than five employees but less than 50,
a small or non-existent dedicated sales force,
strong values and faith in people?
---
Special offer: 
Get a free hard copy of my book/guide/workbook, LIFElines:  Empowering All Aspects of Your Life, by scheduling a 30-minute appointment (video or in-person, whichever is most appropriate) for you to share with me what Durable Success — well-wearing, tough, resilient, strong — would look like for your business. Of course, I believe I have the solutions to get you there!  I'm all ears as to your dreams and nightmares, empowering the former, chasing away the latter!
Call today!  832-877-8821
---