A Life of Pearls: The Treasures Made in Our Lives
Overview
An oyster that sits on the bottom of the bay, living its normal life, creates treasures that are beloved, passed on for generations and hold a special place in the hearts of the recipients of the oyster's work:  pearls.  Pearls are made over time, using natural processes, in response to disruptions and irritations; grains of sand become treasures.
A Life of Pearls guides participants with interactive presentation and exercises to open themselves and their lives to reveal the treasures they have made.  And, just as pearls must be worn to maintain luster, the pearls of one's life must be worn, too.  The events of life have created pearls, or are creating them now.  This understanding provides new perspectives on life, and new clarity for the future.
Hope-filled, energetic, optimistic, realistic and loving, this presentation uses the wisdom gleaned from life and seen with new perspectives to provide the courage, optimism and joy for life to come.
Program
The highly interactive program is easily applied to a variety of situations:
Live single-session or four-session programs
Via DVD to present to residents
Secular or faith-based versions
For resident group presentations or inter-generational programs
Outcomes
Courage and strength
Clarity and understanding
Healing and hope
Fun and laughter
Insights and tools that can be applied for the rest of their lives
The LIFElines Model
The basis of the program are LIFElines, developed by Dion McInnis when he created Memories to Memoirs™ program for seniors almost 15 years ago.  The concept proved to be productive for a variety of audiences:  seniors, women in shelter, photographers, writers, students of creativity, leaders and team members.
McInnis' book, LIFElines:  Empowering All Aspects of Your Life, was published in early 2017.  The cover reveals the format of the four lines created in the exercises:  the dots represent birth and death, and the "x" marks where the resident believes they are currently. The process enables participants to see their lives in new perspectives and contexts, and empowers decisions and actions for the remainder of their lives. Books can be provided to attendees.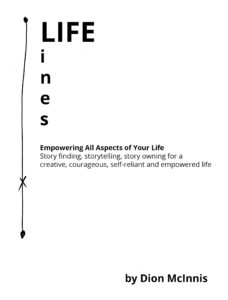 Writing for Perspectives
Writing exercises are used to help attendees bring their new insights together using specific writing prompts, and developing skills in writing poetry, letters, stories and essays.
Ways to Use the Knowledge
Attendees can use the insights in many ways:
Write a memoir or personal history for themselves or for publication
Create a legacy document to pass on to their children and grandchildren
Find new directions for the rest of their lives
Find clarity to life's experiences, providing them peace, strength and courage
Inspire new dreams, goals and purpose
Develop new ways to gain voice for thoughts, ideas, concepts, personal history and more.
Useful links
Quotes from the book:  www.DionMcInnis.com/LIFElines
Authors Access Radio interview explaining the process:  http://audio.authorsaccess.com/podcasts/DionMcInnis.mp3
Opening to Pearls presentation for It's Your Time Women's Conference: https://youtu.be/MzMwOt-Fs_4