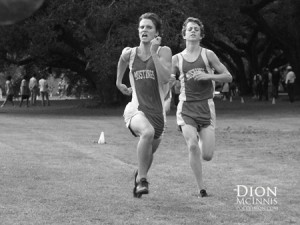 This was the race.  This changed everything.  Your team members are looking for this race.
My middle son loves running.  He competed in track and cross country in middle school and high school.  While his love was running, his fire was cross country—5k runs through hill and dale.  Cross country teams have many athletes in a race, but only the top five in a race are counted in the scoring.  Each place has a score equivalent to its place, i.e., first place is one point, tenth place 10 points and so on.  The team with the lowest score for its top five runners wins.  If you are on a cross country team, you want to be among the top five on the team, and competition tends to be fierce.
This was the moment when my son passed and bested someone on his own team that he had pursued for most of the season.  They always ran close, but my son always came in behind him.  Until  this race.  This moment, less than 100 yards from the finish line, changed everything and fueled a competitive fire and sense of conviction that still burns today, some ten years later.
Each person on your team has a fire to be fueled; each has a nemesis to be vanquished; each has a desire to be sated…and it may have nothing to do with work, and that's okay.
Team members were people before they were members of the team.  Listening and learning what makes them who they are—including their goals, desires, nemeses and fires—better enables leaders to maximize team satisfaction and success.
I  recall my first staff retreat at my latest university.  The employee who had aspirations of being a singer was asked to find a way to sing at the retreat, for example.
Find their fire; fuel it.