Looking back on the hundreds (felt like millions) of hours at swim meets for my three sons from children through high school, I enjoyed creating photographs of more than just the actual in-the-water moments of the events.  Many visual metaphors resulted, almost all of which provided views of important lessons in life…including those related to management and leadership.  Here are two.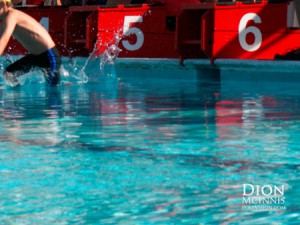 Trying to Walk on Water Is Not a Good Idea
Managers, bosses and leaders should not create an expectation that team members need to walk on water; team members should not think they are so good as to be able to.  Everyone on the team has different skills, talents and attributes to bring to the team.  No one is perfect.  No one can do everything.  They shouldn't be expected to, and they shouldn't be encouraged to think that they can. Be realistic and authentic with yourself and your team.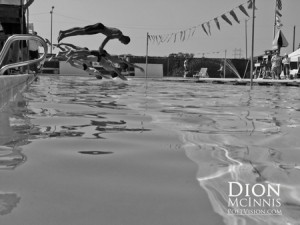 Some People Just Do Things Differently, And They Still End Up Where They're Supposed to Be
I don't remember how this person fared in the race, but he made it into  the water like everyone else, and reached the finish line like everyone else:  mission accomplished.  And so it is for members of teams, committees, groups and families.  Not everything is a race to be first; it is likely simply a challenge to compete and complete.  And if someone does things a bit differently, so be it.  Let it be.